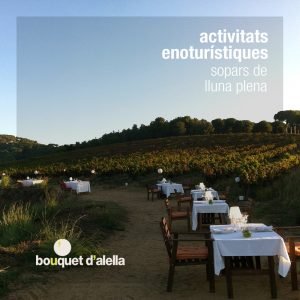 Discover all of full moon's magic here at Bouquet d'Alella. Come stroll among the vineyards under the moonlight, enjoy a delicious dinner with local products and complete the experience with the best wines from our winery. Join us on July 16 for such an amazing time!
The price includes:
– Guided visit to the winery.
– Stroll through the vineyards with a welcome tasting.
– Appetizer with a wine tasting.
– Tasting dinner with wine pairing Bouquet d'Alella.
– Water, dessert and coffee.
Duration: 4-5 h
Price per person: € 81 (adults) // € 36 (children up to 10 years old)