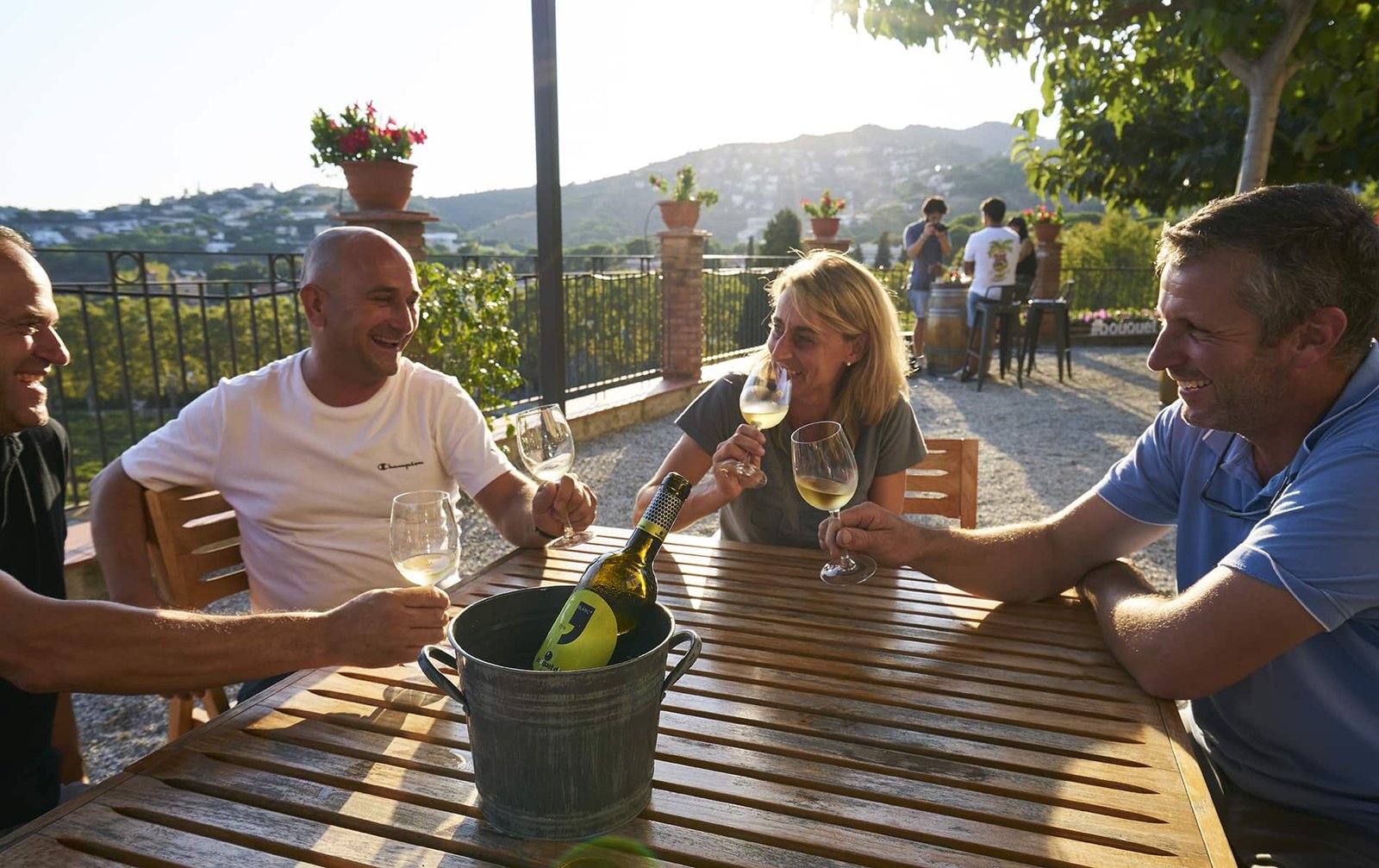 New spacious, quiet and cozy area between vineyards. A privileged environment where you can have a glass of wine surrounded by nature, without crowds and with the best company. You can enjoy all our wines, including those limited and special editions so hard to find in shops and restaurants. And of course you can have them with small snacks.
We hope to see you all!
Blanc 2022
Dry white · Pansa Blanca and Grenache Blanc 
Blanc + 2022
Oaked white wine Pansa Blanca and Grenache Blanc 
Pansa Blanca 2022 
Organic white wine. Vall de Rials old vineyards. 
Garnatxa negra 2022

Light red · Grenache 
Syrah 2021

Aged red wine 12 months in oak barrel Syrah 
Garnatxa Negra Rosada 2022. Edicions Limitades. Edicions Limitades  
Rosé. Garnatxa Negre 
Pansa Rosada 2022. Edicions Limitades 
Orange. Pansa Rosada. 
Plaer Escumós 2017. Brut Nature
Sparkling white wine aged at least 30 months on the lees. Pansa Blanca and Chardonnay  
Mataró Ancestral 2022. Edicions Limitades 

Sparkling rosé · Ancestral method. Mataró 
Pur Dolç

Grenache Blanc. Late harvest wine. Solera 2012.
Olives stuffed with anchovy
Anchovies de Cantábric 6 fillets / litter 10
Local cured sausage from Solsonès area
Local wood oven bakery bread with tomatoes
Cheese board from the Catalan Pyrenees accompanied by homemade jams.
Iberian ham platter 100gr
APPETIZER PACK 1
Recommended for 2 people. 
1 small bag of artisanal crisps + stuffed olives + pickled mussels + 2 glasses of wine (Blanc, Garnatxa Negra o Ancestral)
APPETIZER PACK 2
Recommended for 2 people. 
Cantabrian anchovies + Local sheep cheese + Local Longaniza sausage + Tomato bread + 2 glasses of wine (Blanc +, Syrah o Plaer Escumós)
Check our opening hours and plan your visit