Would you like to surprise your friends, couple or family with an unique experience among the vineyards? Give them a wine tourism experience.
Live an immersive experience in the world of organic viticulture and wine with all your senses and then learn to express it through abstract art. We wait you next 21th October
Come and enjoy this cooking/pairing workshop where the chestnut is the main ingredient. We are waiting for you on Thursday, October 26 
Do you want to meet the youngest of the wineries of the DO Alella? Come and discover this small family owned winery.
Enjoy a good breakfast and wine tasting in a privileged space. Start the day in the best way!
Get out of the routine! Can you imagine enjoying a picnic in the middle of beautiful vineyards overlooking the sea? Don't miss it!
Enjoy a different kind of aperitif! A gourmet aperitif surrounded by vineyards with views of the sea and the village of Alella.
Artisan and local cheeses paired with our wines. Another way to know about our region!
Come and enjoy this cooking/pairing workshop where mushrooms are the main ingredient. We'll be waiting for you on Thursday, November 16 
Come and enjoy this cooking/pairing workshop where legumes are the main ingredient. We are waiting for you on Thursday, November 30.
Come to a delicious plan among friends. Prepare your own paella by the hand of our chef and pair it with our wines.
Go ahead and celebrate a Calçotada near Barcelona in a different way: in an idyllic setting in the Maresme region, among the vineyards of Alella! A seasonal gastronomic feast!
Do you fancy a hearty Catalan cooked breakfast (the legendary 'esmorzar de forquilla' or 'fork breakfast') in the vineyards? Do you want to get to know the work of the vineyard? Come!
Join us on the next 8th May to enjoy a combined activity: pruning workshop + fork breakfast in the vineyards. Would you like to participate?
We are waiting for you next February 5 to enjoy the combined activity: pruning workshop and fork breakfast among the vines. do you cheer up
Give yourself enough time for self-care in the morning, taking care of your body and enjoying nature. Come and join us together with our yoga coach Erika on December 17, January 21, 2023, February 18, 2023 and March 18, 2023.
Enjoy a typical and delicious Christmas pairing! Te esperamos el 10 de Diciembre a las 11h.
Christmas are coming!. Are you already thinking about the kind of dishes to cook? In that case, you should also think about the kind of wines to serve! We helps you to choose!
Come to welcome spring. We celebrate with a guided tour and a small picnic in the middle of nature. Do not miss it.
¡Enjoy a typical Christmas breakfast! We wait you next 18th Decemberh.
Enjoy the colors of autumn and their typical sweets in this "pairing experience" to combine with our wines!
Spring has already arrived and with it the burst of colors on our farm. That's why we encourage you to enjoy our wines and a Floral Art workshop in our vineyard!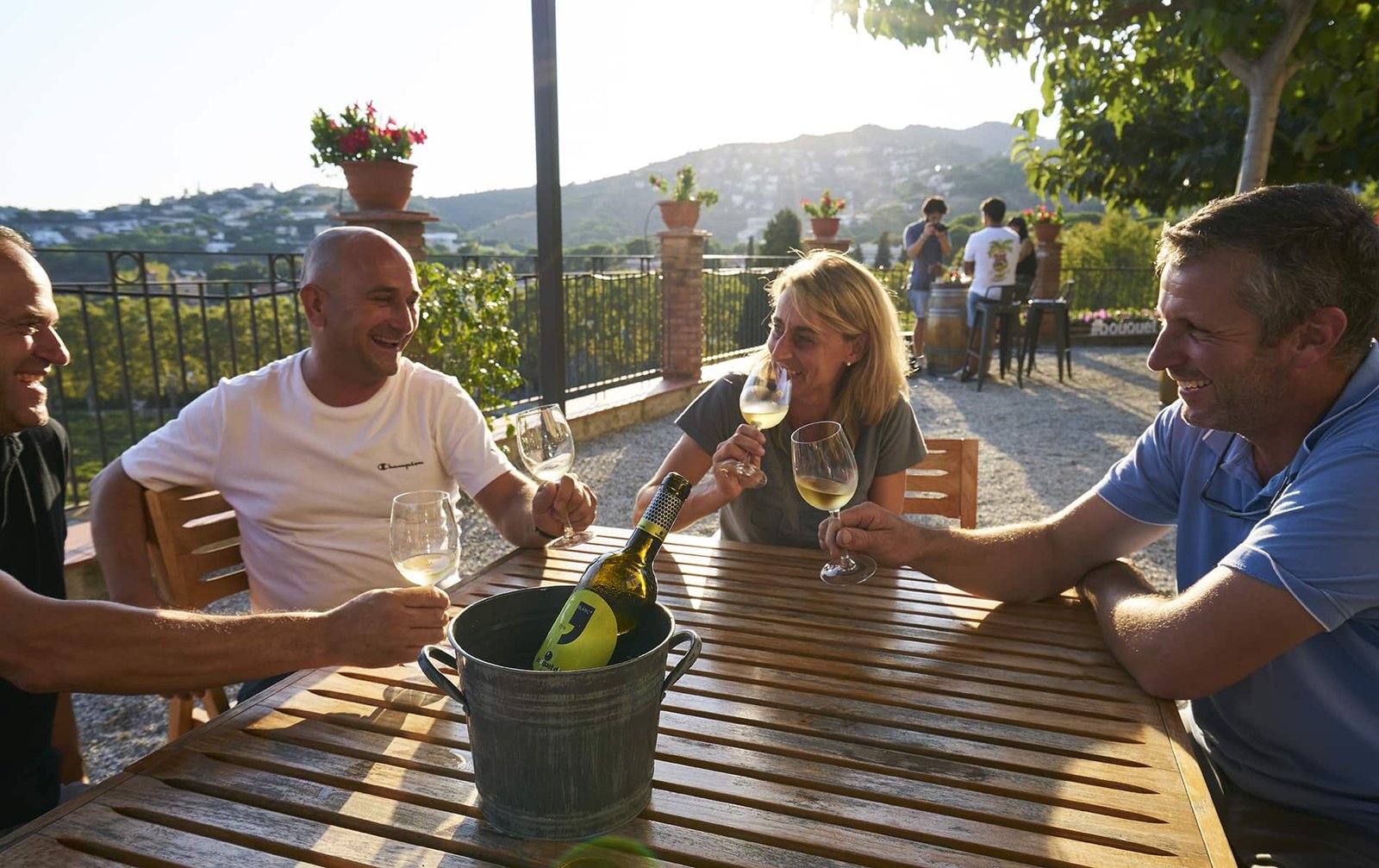 New spacious, quiet and cozy place between vineyards for wine tourism Alella. A privileged environment where you can have a glass of wine surrounded by nature, without crowds and with the best company. You can enjoy all our wines, including those limited and special editions so hard to find in shops and restaurants. And of course you can have them with small snacks.
We hope to see you all!
Bouquet d'Alella Festival
As part of Alella Summer Festival, the Bouquet d'Alella Festival 2022 is a different and stimulating way of approaching the culture of wine. An experience where wine, music and gastronomy go hand in hand. A privileged natural area, a country estate full of history and all the strength of the family tradition. Organic wines, made under strict quality criteria. Root music, exquisite proposals, unique artists from our country and local cuisine.
We like to share our wine experience as well as our privileged environment. A winery in a 15th century farmhouse among vineyards, overlooking the village of Alella and the Mediterranean Sea. A unique space that will make you connect with nature and enjoy an unforgettable moment.
Wine tourism in Barcelona is in vogue. Wine tourism Alella will allow you, in one morning, to visit our winery, enjoy our landscape, wines and culture. If you want a getaway and visit a winery near Barcelona, ​​Bouquet d'Alella is your choice, just fifteen minutes from the city! If you want to visit a winery in Barcelona, ​​you have it easy with our wine tourism options. Come to Bouquet d'Alella, in our
picnic area
, to have an
aperitif in the vineyards
, a
wine and cheese pairing
or just come to our
Wine Bar
. If you are looking for good wines – and natural ones! – near Barcelona, ​​we suggest our route to see our farmhouse and taste our wines. Bouquet d'Alella is the winery of Barcelona. Do you want to do wine tourism in Barcelona ?, We are 15 minutes away, perfectly connected and in the middle of nature. If all you need is a business event, we offer you our spaces, with which you can organize any activity in a winery in Barcelona.